Turkish Grand National Assembly (TBMM)
Our day on Monday began and ended with the
Turkish Grand National Assembly (TBMM)
. In the morning, we toured the assembly building, saw the parliamentary library, committee meeting rooms, and the vast hall where parliament members meet.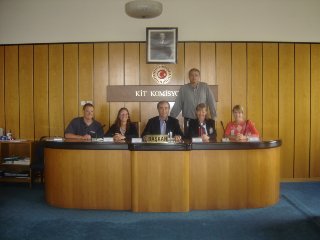 In meeting room at Turkish Grand National Assembly in Ankara
For lunch, we visited a restaurant specializing in Iskender Kebabs: a cholesterol bomb, these include thinly sliced lamb with tomato sauce, served over pita bread and covered in peppers. After serving the food, the wait staff pour butter on the entree. Noyan told me later that most Turks only eat an Iskender kebab twice per year. Unlike an Adana Kebab, the name has nothing to do with geography. Someone named Iskender (Alexander) invented the dish some 150 years ago.
We spent the afternoon in Rotary president Necati Demircan's office sorting out travel and mailing arrangements for our team. Bethany is continuing on to Ismir and the Greek islands over the next few weeks. With a few phone calls to his contacts, Necati helped Bethany solidify her plans.

After picking me up from Necati's office, Noyan and Esma gave me a tour of the "Egitim ve Rehabilitasyon Merkezi" (education and rehabilitation center) they operate, the Ozel Istikon. With its beautiful gardens in front and bright classrooms inside, the children there clearly have a warm environment for learning.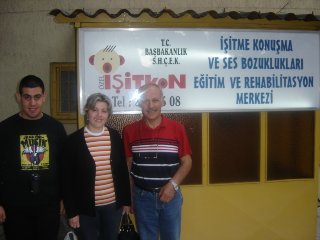 Murat, Esma, and Noyan Bakir in front of the school Esma and Noyan operate
Then, as we hadn't eaten in at least two hours, we broke for dinner. Esma made mercimek corbasi soup (it tasted like lentil soup) and dolmas (grape leaf wraps covered in yogurt) for Noyan, Murat and me. We had kadayif (pistachio pastry roll) for dessert.

Then our hosts (Necati and Pervin Demircan, Noyan and Esma Bakir, and their colleagues) chauffeured Lisa, Bethany, Steve and me across town to the Bilkent University Sports International Center, where we got some much-needed exercise after all the food, to ensure we don't get "sistim" (fat).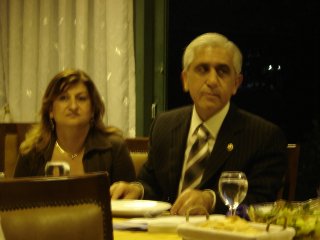 Turkish Parliament Member Aziz Yazar of Hatay

After checking into the gym and wandering past the step machines and treadmills, we ran into Aziz Yazar, the white-haired, furrow-browed parliament member from Hatay we met in Iskenderun. He had been a guest of the Yarikkaya Rotary meeting we attended on May 13. He remembered us.