Peace at Home, Peace in the World
Last Thursday, we left Konya for the
District 2430
conference in Antalya, a resort city on Turkey's southern coast. While tanning on the Mediterranean beach, sleeping in enormous gazebos overlooking the sea, and dining on fresh salmon, fried bananas and sumptuous strawberries at the Xanadu Hotel, our group reflected a bit on our weeks in Turkey as we prepared a presentation for the conference.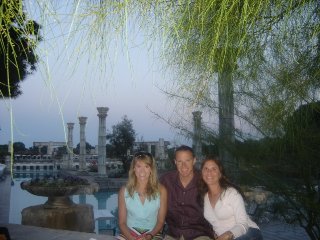 With Bethany and Lisa at Xanadu Hotel
On Friday, at a beach party, we had a chance to visit with some of the Rotarians who have hosted us over the past few weeks. And throughout the weekend, we were able to see our GSE counterparts from Turkey, as three members of the GSE team who had spent April in Denver attended the Antalya conference.
On Saturday, before an audience of almost 700 people at the Gloria Hotel, Jan, Steve, Lisa, Bethany and I summarized our journey, each of us detailing visits to two cities and describing the impact the people in each city's Rotary club has had on us.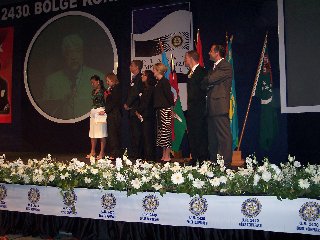 Turkey and Colorado GSE teams watch Turkey GSE leader Bulent Tuzun address conference
All along the way, each club's Rotarians have taken time out of their day to show off their cities for us and they've invited us into their homes. They have sat with us on minibuses, chaperoned us through museums, guided us through bazaars, sweated with us in hot steel mills, and drank endless cups of Cay with us in factories and offices.
By staying in homes, living with families, and experiencing Turkish home life for almost a month now, I better appreciate Ataturk's words: "Yurtta Sulh, Cihanda Sulh" (Peace at Home, Peace in the World).
And now we're back in the capital city, Ankara. On Sunday afternoon, we rode a giant Ulusoy bus north from Antalya. I'm staying until Thursday with Noyan Bakir, a dentist, and his wife Esma, a speech therapist. They operate a clinic for kids with problems such as autism. On Monday we are scheduled to visit Parliament, and we may possibly see the US Embassy on Tuesday. If time allows, we might also tour Noyan's clinic tomorrow.