A chemical factory with a zoo
Ilhan and Nilufer invited Lisa and her hosts, Tufan and Dilek, over for dinner on Thursday night, along with Tufan and Dilek's daughter Sevin and son Levant. Steve joined us as well. His host was a bachelor for the week, and Dilek and Nilufer wanted to make sure Steve didn't go hungry. Not possible in Turkey!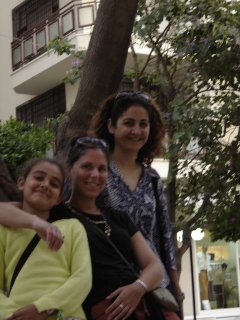 Sevin, Lisa, and Nilufer take a break from shopping in Mersin
The highlight of the evening included a ravioli-like dish called manti, made by Ilhan's mother. Nilufer says it takes 4 hours to make. Steve and I each had two helpings. It's topped with a yogurt dressing that includes garlic. For dessert we had chocolate cake and Turkish kahve (coffee); Nilufer showed Lisa how to make Turk kahve.

Despite the Turk kahve, I was asleep by the end of the dinner party. It had been a busy day that began with a run on the beach with Lisa, Steve, Nilufer and Dilek. In the morning we saw the ruins of a Roman theater, and in the afternoon the Kizkalesi Rotarians took us to the beach, where we relaxed, had lunch at the Hotel Barbarossa, and swam 500 meters to and from the Maiden Castle ("Kizkalesi" in Turkish), built by the Armenians in the 11th century (as Sarah from Mersin University explained to us).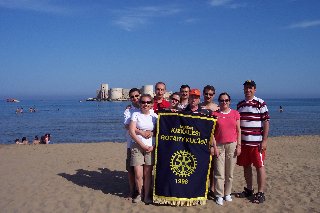 Mersin Rotarians with Kizkalesi Castle in background
This morning we visited the Soda Sanayii plant (
http://www.sodakrom.com
), the sole producer of soda ash and chromium chemicals in Turkey.

As a souvenir, their director gave us each a packet of baking soda. It will be interesting explaining that to the customs officials at JFK!

The Soda Sanayii plant is very environmentally friendly, and they even have a small zoo outside with ostriches, goats, and pelicans.