Governor of Sakarya, visit to Istanbul
Durıng a barbecue on Frıday night at the Onucak residence overlooking Lake Sapanca we found out that we were expected at the governor's mansıon. So we all piled into cars and drove across Adapazari to meet wıth the governor of Sakarya. I gave hım a John Fielder Colorado photography screensaver and he gave each of us a book about Sarakya and some Turkish food.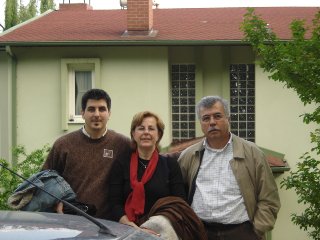 Ata, Nermin and Taylan Onucak
On Saturday we journeyed to Istanbul where we toured the Dolmabahce Palace. This morning I got to sleep in and had brunch wıth Ata and his famıly. Taylan presented me wıth a pen keychain and letter opener bearıng the ANT group logo. I also tried showıng them the web cam for the kennel where Jesse is stayıng (so their terrier Gizmo could see) but being 2:30 am ın Denver, it was shut down.