Great food and friendly people
After two days in Ankara, I've finally found five minutes to use the Internet. Tuesday's journey was definitely an eventful one. My checked suitcase was delayed in making the final leg of the trip from Istanbul to Ankara, so I sat with my host, Bahadir, drinking coffee while waiting for my suitcase to arrive. After retrieving the bag, settling in at Bahadir's house and resting for an hour, our team turned around, had dinner with the Ankara-Emek Rotary Club, and gave our presentation.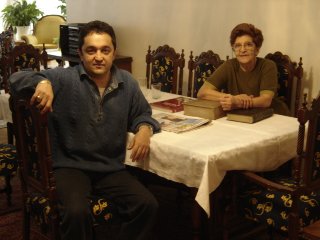 Bahadir Tanriluku and his mom, Mukaddes

The next day, Wednesday, I participated in a vocational program, visiting Likom (
http://www.likom.com.tr/
), which makes ERP software for manufacturing companies. Like CQG, they've been around for two decades, perform automated testing and use C#, ASP.NET, and SQL Server. With the laid-back attitude and casual dress code, Likom is just like any IT company in the US, except for the omnipresent cigarettes and ashtrays.

Everyone here smokes. Even at the mausoleum of Mustafa Kemal Ataturk (founder of the modern Turkish republic), which we visited today, there hangs a portrait of Ataturk, leading his troops, cigarette dangling from his mouth.

The Turks are very friendly and hospitable. On Wednesday night, after an afternoon at the Anatolian Civilization Museum and a walk through a bazaar, we were treated to a four-hour feast at a seafood restaurant. At every occasion, from a chat at someone's home to a meeting with a software company, guests are offered tea, coffee, and pastries. The Turks have told us that if we don't return to the US heavier than when we arrived, they will have failed in their mission.