Tennis with a Turkish urologist in Antakya
I'm writing from Mersin, in southern Turkey along the Mediterranean coast, from the office of Ilhan Karaselcuk, owner of his own computer retail business for 13 years. Ilhan's wife Nilufer is a dentist. Ilhan also built his Rotary club's website (http://www.kizkalesi.org) and will be its president in 2007.

Our group rode in a minibus for 3 hours this morning from Antakya to here. We'd spent just over two days in Antakya, where 2000 years ago, St. Paul had established the first church. My hosts in Antakya were Dr. Firuz Harbiyeli, his wife Duthan, and their dog Finest. Firuz, a urologist whose white mane was reminiscent of Mark Twain, speaks a little English but Duthan (and Finest) do not. However, we were still able to make ourselves understood and have a great time. Firuz and I played tennis on Saturday afternoon after we had lunch with Duthan. He was able to improve my racket handling skills using phrases like "Victor! Racket! Parallel to leg!" During lunch, Firuz and Duthan were referring to their phrasebook and I was using mine. At one point Duthan and Firuz exchanged high fives after a successful bit of dialogue.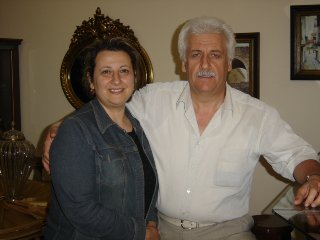 Duthan and Firuz Harbiyeli

By the end of the weekend, I'd become close with these hosts as I have with all the others so far on the trip. It was my first experience with a real language barrier, as my previous hosts Bahadir, Taylan and Meryem were all English speakers. However, despite the linguistic obstacle, the weekend was "cok iyi" (very good)!