Kaanbey ve Onurbey (Mr Kaan and Mr Onur)
My host family in Mersin are the first with young children: Kaan (11) and Onur (7), whose names mean "emperor" and "honor". They're Nilufer and İlhan's children. The children are very westernized - Kaan was sporting a Larry Bird #33 Celtics jersey - and both children know English but are too shy to speak much of it.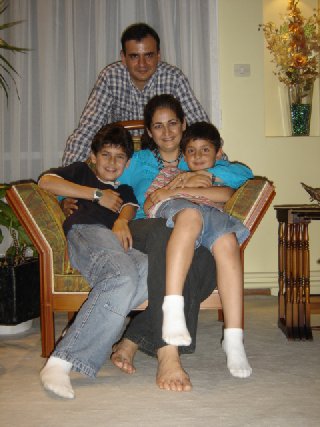 Ilhan, Nilufer, Kaan and Onur Karaselcuk

Nilufer showed me Onur's English homework, where he had drawn a family tree, and his English skills are very solid. They giggled at my attempts to speak Turkish, and this seemed to bring them out of their shell a bit in speaking English.
During Monday night's Rotary meeting, Jan, Bethany, Lisa, Steve and I were presented with Muslim prayer beads, which come in sets of 99 or 33. As a guide explained to us on Sunday in Antakya, when we visited a mosque, these bead sets are sort of the Muslim version of a rosary. The worshipper would either complete one round of the 99 beads, or three rounds of the 33 beads. It is a bit of culture I knew nothing about.
On Monday night after Kaan and Onur went to bed, Nilufer, Ilhan and I sat in the condominium chatting about history, politics, information technology, dental offices and numerous other issues as traffic sped by below on Ismet Inonu Bulvari, Mersin's main boulevard. Mersin seems to be the Miami of Turkey, while Iskenderun might be the country's version of Pittsburgh, the heart of industry, though with palm trees and a beach. Cappadocia is quite a lot like the southwestern U.S., with beautiful land formations and dry deserts. Ankara is very reminiscent of Colorado, with a high elevation, dry climate and mountains.
Today our group visited Mersin University, a state of the art institution which opened in 1992. There I met with staff from the computer science and mass communication departments. These departments have "smart classrooms". Our group also met with members of the Maritime Chamber of Commerce and the Chamber of Commerce. Tomorrow we will visit Tarsus, hometown of St. Paul. It also boasts a waterfall, the Cleopatra Gate (where according to legend, she met Antony) and an old Roman road.