Turkish football, Islam, Journalism, and textiles in Konya
During our first full day in Konya on Sunday, Abdurrahman taught me about the rituals surrounding Turkish football, and he and his wife Hacer taught me about Islam's traditions. I was glad to learn about both.

On Sunday morning, our group and hosts had brunch at the brand-new Birdem restaurant. Then Lisa's hosts (Ayhan Milci and his wife Jasmine) took Steve, Lisa, Bethany and me on a panoramic tour of Konya, including a church dating from the 2nd century A.D., a lake where we skipped rocks, and cay at an old house that featured an "engagement room" for preparation for a wedding.

That evening, I watched the Turkish football championshıp game between Galatarsaray and Fenerbahce with Abdurrahman, Hacer, daughter Ezgi, Abdurrahman's sister, brother-in-law, and nephew. Except for the brother-in-law, the whole family supported Galatarsaray. The brother-in-law supported Fenerbahce. Abdurrahman had taught me the cheer: "Galatarsaray, Cim Bom Bom!"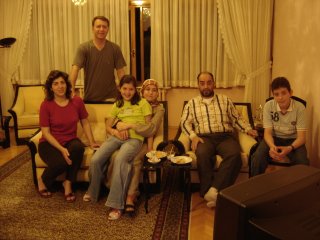 Abdurrahman's family enjoys the football match



The game was scoreless until about the 75th minute, when Fenerbahce scored. Momentum continued to swing against Galatarsaray when one of its players injured a knee late in the game. Fenerbachce went on to win 1-0.

Abdurrahman's sister wore a headscarf, and Abdurrahman described his brother-in-law as a "hard Muslim", and said that he'd made a pilgrimage to Mecca. We bonded through sport fandom, a universal language. Everyone kidded each other about their teams' successes and failures throughout the season. Galatasaray had beaten Fenerbahce during the regular season, but came up short in this contest.
After the football game, Abdurrahman, Hacer and I discussed numerous religious issues, including the marriage of clergy, the Da Vinci Code, the last two popes' stances on Islam, Muslim women's headscarves, other rituals within Islam, and the "tespih" (Muslim prayer beads).

Abdurrahman explained to me what the prayer positions represent: standing represents humanity, bowing represents animals; crouching represents plants; and laying prostrate represents thanking God and exhibiting reverence. Abdurrahman invited me to visit his mosque, and we visited it on Monday morning. He explained to me where the imam and his helpers stand, and where the worhsippers remove their shoes and wash themselves prior to entering the mosque.

After this, Abdurrahman and I joined the rest of the group, and we visited
Selcuk University
, including the Mass Communications department, where we had a spirited discussion about freedom of speech and censorship in Turkey and in the U.S, as well as about journalistic bias. I felt like I'd been taken back 10 years to my journalism classes at DU. My opinion is the same as it was then. Given one's bias, it's impossible to remain objective in reporting, but it is possible to set those biases aside and strive to be fair.
We also visited the newspaper Yeni Meram (New Meram), where we discussed editorial freedom and where the editor's puppy peed on my hand.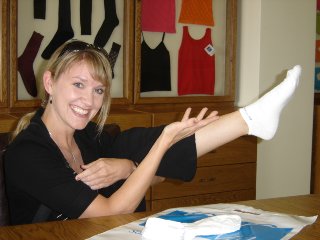 At the Vela Sock Factory, we were each given personalized socks

We also toured the Vela Sock Factory, where we saw a computer program used to design fabric for one of Turkey's leading exporters. The software can control 1248 needles on a massive sewing machine. Following this tour, we discussed China's growing role in the textile industry, and how this has affected Turkey and the U.S.