Onward to Konya after feasting in Mersin
We left Mersin Saturday morning after a heartfelt sendoff Friday evening. Our group attended a party on Friday night that featured all sorts of excellent food, such as borek, a potato bread made with red peppers, black peppers, olive oil, salt, onion, and ground potatoes rolled into a dough. They're Turkey's version of the pierogie. We also had icli kofte (a chicken pierogie), biber salca (bread covered with a peppery spread), and for dessert, profiterol (an eclair-like dessert).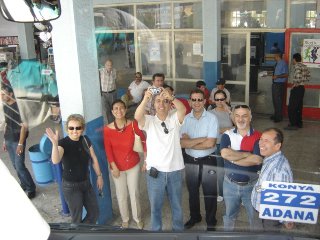 Mersin Rotarians bid us "Gule Gule"



The Mersin rotarians sent us off on Satuday morning, and we journeyed six hours northwest by bus to Konya. Yesterday I heard the analogy that Mersin is like California, and Konya is like Alabama: conservative and religious. Women in headscarves are more common here than elsewhere in Turkey, and Konya is the home of the Mevlani mystic dancers, the Whirling Dervishes.


I will be staying until Thursday morning with Abdurrahman Ozkaynak, his wife Hacer, and their daughter Ezgi. Abdurrahman is a former banking manager who recently started his own wood pellet business. Hacer teaches high school English, and Ezgi (11) attends a private school. After I arrived Saturday afternoon, we had dinner (tavuk and dolmas...chicken and stuffed peppers), and discussed politics, international relations and religion.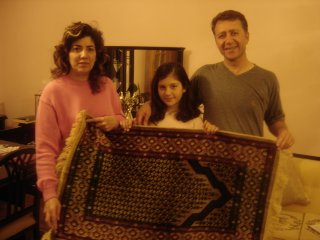 Hacer and Abdurrahman Ozkaynak with daughter Ezgi


The Ozkaynaks' feeling on the EU is that it isn't necessary for Turkey to join, but that in its efforts to join the EU, Turkey would make improvements that would benefit its people regardless of whether membership is ultimately achieved.

As Ilhan pointed out to me Saturday morning, some elements of Turkey's infrastructure are sorely outdated. On the way to the bus station, we passed a train station that Ilhan said was built during the 1920s and hasn't been renovated since. Thus, travelers largely rely on bus transportation, much of which is European-owned, rather than on Turkish trains.