Bilkent University, Ankara Cyberpark, Symphony Orchestra
On our final day in Ankara, we visited
Bilkent University
, where we met with history professor Barin Kayaoglu, exchange coordinator Aysegul Basol, and toured the library, reputed as one of one of the best university libraries in Europe.
Kayaoglu, who will soon be working in the U.S. at the University of Virginia, gave us a slideshow presentation on Turkey's history. By this point, the material was review for us, but we discussed social and political issues with the professor over lunch in the student dining center.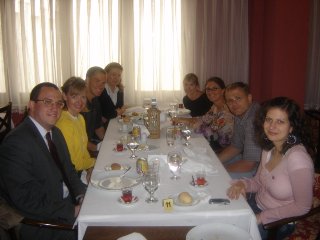 Lunch at Bilkent University. Professor Barin Kaytaoglu is at left.

After lunch we visited the
Ankara Cyberpark
, where Business Development Specialists Ozgur Sar and Kuzyehan Ozdemir showed off their state-of-the-art "incubation center" for startup technology businesses. Businesses are allowed to use this facility for one year, receiving a tax break. I asked Sar and Ozdemir to compare the costs of IT labor in Ankara to those in Eastern Europe (such as Moscow, Samara, Yerevan and Kiev). They said a university graduate from Bilkent in an entry level job would receive about 1,000 USD per month. But as Kayaoglu pointed out, where would you rather want to live? Yerevan or Ankara?
Tonight our hosts will be taking us to a symphony orchestra performance. We will see the Akdeniz Ulkeleri Genclik Senfoni Orkestrasi of Baskent Universitesi. The event is sponsored by the Ankara Bahceliever Rotary Kulubu. Then we will bid "gule gule" to Bethany and Lisa, who leave tonight on buses. Tomorrow Steve, Jan and I will bid "hosca kilin" to Ankara.