US Embassy, Turkish Psychology, Ebru, and Beyti Kebaps ... Why Not?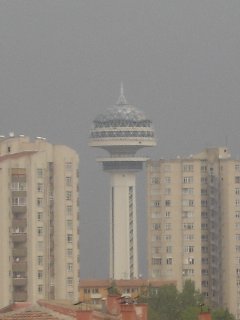 Atakule Tower in Ankara, Turkey



After giving our final presentation of this trip today at the Ankara Kocatepe Rotary Club meeting, we hurried to the US Embassy on John F. Kennedy Caddesi, where we met with Counselor for Commercial Affairs Amer M. Kayani.

He said that US-Turkish relations are nearly back to the point they were before March 1, 2003, when Turkey declined to allow the U.S. to use its land as an entry point to Iraq. Responding to questions regarding cost being an obstacle to trade between the U.S., he said that if an entity is needed badly enough, cost is not an obstacle, but affirmed that China and Southeast Asia dominate the market for imports to the U.S.

Regarding software piracy, he said that Turkey has made strides in preventing illegal software, but cautioned that there is still more work to be done. Kayani also said that some 35% of software in the U.S. is pirated, and said that U.S. software companies need to devise more innovative means of preventing piracy.

After our visit to the embassy, we stopped at the Ulusoy bus office so Bethany and Lisa could buy tickets for their travels after the GSE trip, then met with the
Turkish Psychological Association
, an organization of particular vocational significance to Bethany (a psychologist), Lisa (a public health official), and Steve (the executive director of a day care center).
I found it extremely interesting as well.

The representative we met with said that the standard for licensing psychologists in Turkey isn't as concrete as in the U.S. She said that the TPA favors Turkey joining the EU, as it would compel Turkey to offer greater resources and credibility for psychologists. She said many Turkish psychology students lack the necessary practical knowledge to succeed.

The psychology official also mentioned the traumatic effects of the 1999 earthquake in Turkey's Sakarya region. We visited Adapazari, capital of this province, from May 6-8, and were struck by the close-knit camaraderie of the community. It was like the U.S.'s attitude in the weeks following September 11, but for the people of Adapazari, the community spirit has endured. The TPA official said that some 500 of its psychologists worked with earthquake victims, and were trained in collaboration with UNICEF.

In helping the earthquake victims, TPA used
practices
called "Energy Psychology", involving positive and negative energy, and "EMDR" (Eye Movement Desensitization and Reprocessing), a way of using patients' eye movements to treat their emotional trauma.

If the Adapazarians' compassion, appreciation of life and people, and sense of community is any indication, these treatments worked!

This evening, after my host Noyan presented each member of our team with Ebru (beautiful marble paintings), we ate dinner at a restaurant overlooking a lake south of Ankara. Rotarian Ali Morel recommended the Beyti kebap, a meat dish served with grilled onions and tomatoes.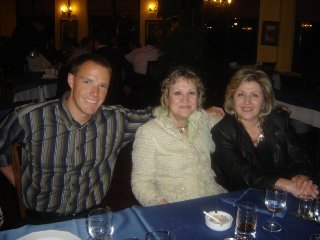 At dinner with Pervin Demircan and Esma Bakir. The Beyti kepaps were history by this point.



It's like an Adana kebap, hot and spicy, but with garlic. "Beyti" is not to be confused with "Betty", the Turkified pronunciation of Bethany. We each have become accustomed to the Turks' pronunciations: Jan is "Zhan", Steve is "Stiv", Lisa is sometimes "Lizza", and occasionally I'm "Wictor".

But the Turkish version of my name (meaning winner) is Zafer, as Zafer the accountant told me in Iskenderun.
Tomorrow we will visit Bilkent University, and tomorrow night we'll enjoy a concert. And that will be it for our time as a group here in Turkey. Lisa and Bethany will board buses on Wednesday night, and the rest of us will board planes on Thursday morning.
We've seen almost every corner of this fascinating and historic land. We've seen the Black Sea and the Mediterranean Sea. We have ridden on planes and ships, buses and camels.
We've seen a young and vibrant nation that embassy counselor Amer Kayani today said, geographically, is "in a bad neighborhood". But I think Turkey will bring up the resale value.
The Turkish Psychological Association slideshow displayed a quote from Bernadette Devlin that is fitting not just for Turkey's future, but for anyone: "Yesterday I dared to struggle. Today I dare to win."
As the Turks are fond of saying, why not?