Turkish (and Greek) market in Denver!
The Arabaga Turk kahve I'd brought into the office didn't last long. My co-worker Andres and I finished it off in about two weeks, drinking it during our breaks. The proper way to prepare Turk kahve, as Nilufer Karaselcuk had explained in Mersin, is over a stovetop, using a copper pitcher. Andres and I had to improvise by using a microwave oven. (Sorry, Nilufer...)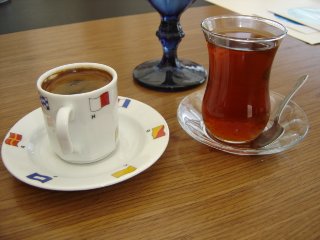 Turk kahve and cay ("chai")
- this photo was taken at our May 17 visit to the Mersin Chamber of Commerce
At any rate, the Turk kahve was depleted, and it was time to restock. My co-worker Igor advised me to check out the shops on Parker Road, across from the Colorado Muslim Center.
So this afternoon I visited the Nazar International Market, featuring fine international groceries and Halal meat. It's on the east side of Parker Road, between Jewell and Florida. As soon as I saw the blue "evil eye" adorning the store's sign, I knew I was in the right place.
Afiyet olsun! Cok iyi! The store's owners, a Turkish man named Erkan and a Greek woman named Suzan, helped me find all the goodies I loved in Turkey. I went home tonight with Mehmet Efendi Turk kahve, Bahcivan taze kasar (white cheese like the Urfa cheese I had for breakfast in Turkey), and Yoruk brand sucuk, the delicious beef sausage. The store doesn't currently have raki, but Erkan assured me they can get more.
Will I be going back? Evet!