Seni Seviyorum, Turkiye!
All my bags are packed and I'm ready to go. I'm leaving on a jet plane, I don't know when I'll be back again.
It's all over except the flying. With our hosts, Jan, Lisa, Bethany, Steve and I attended a terrific symphony performance Wednesday night at Baskent University, including Nabucco, the Madame Butterfly Overture, Gilgamesh, and a Sicilian Folk performance.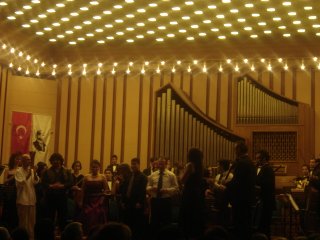 Baskent University Symphony takes a bow

Bethany left the show early to catch a bus en route to her departure point for the Greek Islands. Lisa left immediately afterwards to catch her bus for Istanbul. Noyan and Esma drove me home, where we ate cookies, drank coffee, and chatted. Then it was time to pack, a bittersweet task which is now done and I'm writing my final posting from Turkey. In 6 hours I will board a plane headed west.
Words cannot describe what an incredible month this has been. Thanks to all my hosts in district 2430: Bahadir Tanriluku (Ankara Emek), Taylan and Nermin (Adapazari), the Dedeman Hotel (Cappadocia), Meryem Ciftci and Suat Nart (Iskenderun Yarikkaya), Firuz and Duthan Harbiyeli (Antakya), Ilhan and Nilufer Karaselcuk (Mersin), Abdurrahman and Hacer Ozkaynak (Konya), and Noyan and Esma Bakir (Ankara Kocatepe) for inviting me into your homes and welcoming me as a temporary member of your family. I will never forget any of you.
Thanks to district 5430 for sponsoring me and thanks to my teammates Lisa, Steve, Bethany and Jan for all the laughs and camaraderie - for example, all the inside jokes.
Cok tesekkur ederim, Turkiye! Seni Seviyorum!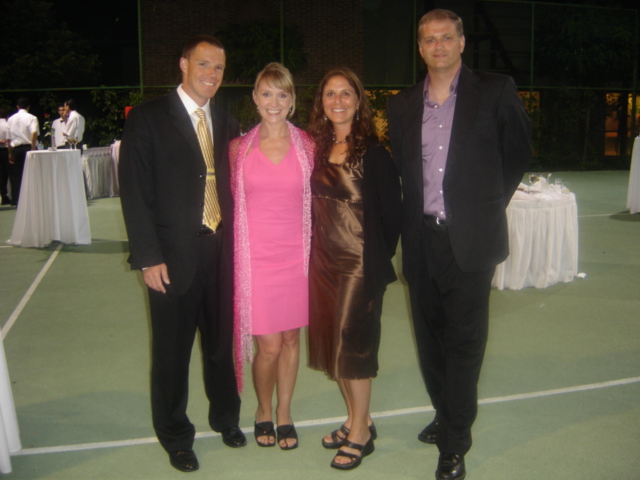 With Bethany, Lisa and Steve at district 2430 conference, Antalya, May 28