A look back at the hosts
This esteemed group, as varied as Turkey itself, includes two dentists, two English teachers, a speech pathologist, several engineers, and a urologist. From them I learned of the unity of a community recovering from an earthquake, I gained insight into the traditions of Islam, and I experienced the closeness of Turkish family life. I also grew to appreciate the passion of Turkish football (Galatasaray and Fenerbahce alike) and I also learned to love Turk sanat musik and
Turkish pop
music.
Bahadir Tanriluku - Ankara Emek
When my luggage was lost en route from Istanbul to Ankara, Bahadir talked to the good people of Turkish Airlines (
Turk Hava Yollari
) and sat with me in the Ankara airport. We drank Nescafe while waiting for my bag. When it arrived, Bahadir drove me to his home, where his mom Mukaddes treated us to tea and snacks, displaying the Turkish hospitality I'd become familiar with during my three-night stay with the Tanriluku family and over the next month in Turkey.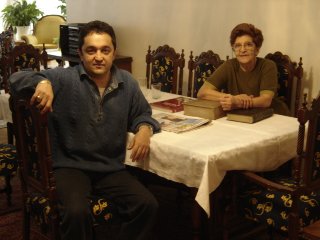 Bahadir Tanriluku (Ankara Emek RC) and mom Mukaddes
Taylan, Nermin and Ata Onucak - Adapazari
After riding in Rotarians' cars from Ankara, we met the Adapazari hosts roadside and were shuffled to Sakarya University, where we were treated to lunch and a university tour. This is a proud, tightly knit community which came together after a devastating earthquake in 1999. They made sure we saw Istanbul, even though (as it's outside Rotary district 2430) the legendary city was not part of our original tour. I stayed for two nights with Taylan and Nermin Onucak and their son Ata - and of course, their dog Gizmo, a little dog the size of Jesse's head. Taylan and Ata showed me one of their houses, which was ruined in the quake. Ata and I discussed music and basketball, and our Adapazari hosts took us to meet two mayors of Adapazari and the governor of Sakarya - right in the middle of a barbecue!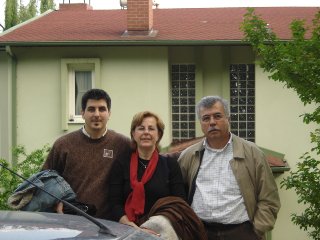 Ata Onucak with parents Nermin and Taylan (Adapazari RC)
Meryem Ciftci and Suat Nart - Iskenderun

After a three-day stay at the Dedeman Hotel in Nevsehir (Cappadocia region), we rode an overnight bus to Iskenderun, where for two nights I was the guest of Meryem Ciftci and Suat Nart. Meryem had participated in a GSE exchange to Australia in 2003. A former English teacher, Meryem now works in her father's export business. Suat is a high school teacher and basketball coach. Suat's sister and a friend were in town from Istanbul, where they are university students. They and I compared growing up and education in Turkey and the U.S.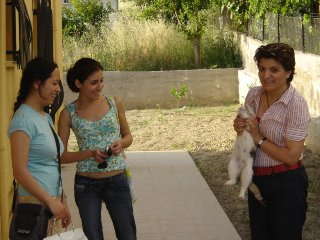 Meryem Ciftci (Iskenderun Yarikkaya RC) with sister-in-law and friend, students at Istanbul, and with cat
Firuz and Duthan Harbiyeli - Antakya

From Iskenderun, we rode a morning minibus to Antakya, where Firuz Harbiyeli, a urologist who enjoys tennis and windsurfing, tolerated my creative tennis skills on a humid Saturday afternoon. After the Antakya RC meeting that evening, he and wife Duthan took me for a pistachio-topped ice cream cone that's the pride of Antakya. Firuz and Duthan practiced their English during my two-night stay, and my Turkish phrasebook was a constant companion, as I practiced my Turkish. This was where I first became familiar with phrases like "Afiyet olsun!", "Bir say digil", and "Hosca kilin".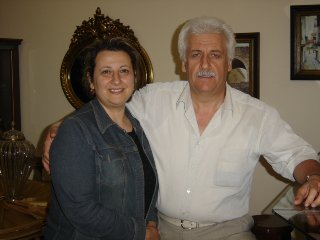 Firuz Harbiyeli (Antakya RC) and wife Duthan
Ilhan, Nilufer, Kaan and Onur Karaselcuk - Mersin

The Antakya Rotarians bid us farewell near an ancient river in the city center, and we were off to Mersin, where we met our next hosts at the Hilton.
I stayed with Ilhan and Nilufer and their two sons (Kaan and Onur) for five days. Their dining room became my bedroom, and I spent mornings eating olives, cucumbers, tomatoes, sucuk and eggs in their kitchen, talking with Nilufer and watching Yalin's video for "Gunaydin" on the Turkce television channel. I surprised their housekeeper Ganja when, entering the kitchen, I greeted her with "Gunaydin, nasilsiniz?" Then Nilufer and I would watch as Onur boarded the Okul Tasiti (school bus) in the morning. Kaan and Onur are great kids whose future is bright in science, computers, or even the NBA.
Tesekkurlar, Ilhan and Nilufer!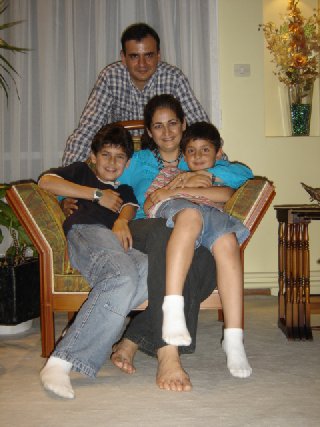 Ilhan Karaselcuk (Mersin Kiskalesi RC), wife Nilufer and sons Kaan (11) and Onur (7)
Abdurrahman, Hacer, and Ezgi Ozkaynak - Konya
Galatasaray Cim Bom Bom and Allah Rahatlik Versin. Those are the two phrases I'll always cherish from my five-night stay with Abdurrahman and his family. We arrived there on a Saturday afternoon, after a riding from Mersin. Deeply faithful, he and Hacer open-mindedly discussed religion with me. Muslim or Catholic, we're all branches from the same tree, and I appreciate the discussion. I also cherish the 6:00 a.m. run with Abdurrahman as much as the late-night discussions on education with Hacer. This family also taught me to appreciate football. They cheered for Galatasaray, runners-up in the Turkish football championship on May 22, and Abdurrahman and I stayed up to watch Liverpool FC defeat AC Milan on penalty kicks three nights later.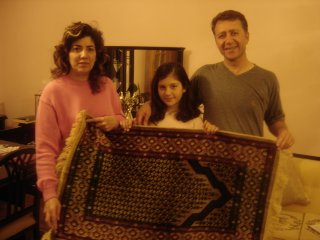 Abdurrahman Ozkaynak (Konya Merem RC), wife Hacer and daughter Ezgi (11)
Noyan, Esma, and Murat Bakir - Ankara Kocatepe
After a ride with the Konya Rotarians to Antalya, we spent four nights in Antalya at the District 2430 conference, then rode an Ulusoy bus back to Ankara, our final stop. It was there that Noyan Bakir taught me the ways of Fenerbahce (sorry, Abdurrahman), showed me the rehabilitation he and wife Esma operate, and explained how the ornate marble paintings "Ebru" are made. As the final stop on the trip, it was especially bittersweet saying goodbye to the Bakirs (whose name means "copper"). I can still see Esma waving goodbye from the fourth floor window as Noyan and I drove away to the airport.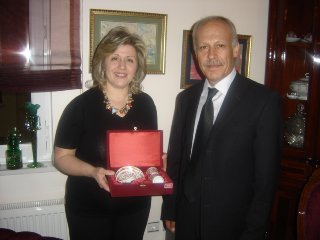 Noyan Bakir (Ankara Kocatepe RC) and wife Esma